In Japan, hydrangea is a flower that signals the arrival of the rainy season.
hydrangea was called AJISAI.
It will bloom in late May and will be in full bloom in June.
You can enjoy the color of the flower, which gradually becomes darker.

1.Hydrangea within walking distance from Ikebukuro Station
1-1.Hydrangeas with Chimney of a garbage incinerator on Seibu Ikebukuro Department Rooftop
Directly connected to Ikebukuro station! You can see the hydrangea at the Seibu Ikebukuro roof garden.
Monet's water lily pond and Japanese bridge appear on the rooftop of Seibu Ikebukuro.
I'm not sure hydrangea bloom in Giverny's garden.
It was probably not in France at that time, along with the chimney of a garbage incinerator.
1-2.Hydrangea with Global Ring at Ikebukuro West Gate Park

Hydrangeas are in full bloom around Ikebukuro Nishiguchi Park(Ikebukuro West Gate Park), which is a 3-minute walk from Ikebukuro West Exit.
Let's enjoy a commemorative photo with various objects.
1-3.Minami Ikebukuro Park

Hydrangea is also found in Minami Ikebukuro Park, which is a 5-minute walk from the east exit of Ikebukuro Station.
There is a fashionable cafe, so it's convenient.
▼RACINES FRAM TO PARK
https://racines-park.com/
1-4.Hydrangea beside Kishimojin-do Temple

Not in #kishimojindo but out of #kishimojintemple .
2.Hydrangea that can be seen within 30 minutes from Ikebukuro Station
Within 30 minutes by public transportation from Ikebukuro Station, I'll share hydrangea is beautiful location.
2-1.You can enjoy Ajisai with various trains at Asukayamapark

You can go Asukayama Park in 16 minutes from JR Ikebukuro Station (JR Yamanote Line + Sakura Tram) At the shortest.
Both ends of the path are hydrangea and railroad tracks.
You can shoot various trains and hydrangea together.
2-2.Ouji Inari Shrine with Hydrangea

Visit the shrine and watch the hydrangea.
I recommend visiting with Asukayama Park above
2-3.Hydrangeas with SakuraTram at Otsuka Station

Let's shoot hydrangea with the only tram in Tokyo
2-4.Gaku Ajisai in Rikugien Garden at Komagome

In Rikugien, there is something like "Mini Hydrangea Garden".
However, I like the hydrangea that blooms modestly on the trails.
2-5.With cute cats!Gokokuji Temple
Ajisai at Gokokuji near Gokokuji Station 2stops from Ikebukuro station with Straycat …
You can climb Mt.Fuji here.
▼Offcial site
http://www.gokokuji.or.jp/english
2-6.With Western-style house!Hatoyama Hall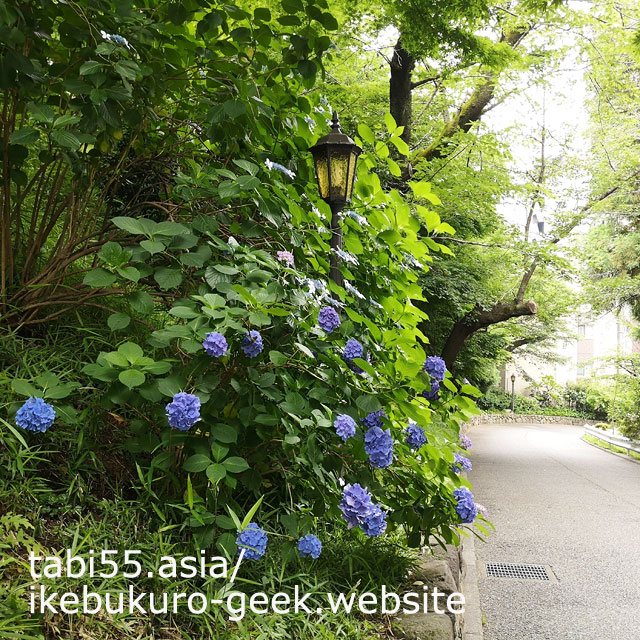 The Hatoyama family has made great contributions to Japanese politics and education.
They have lived for four generations, have been restored, and are open to the public.
▼Offcial site
https://www.hatoyamakaikan.com/index.php
3.【MAP】Hydrangea around Ikebukuro